Review BISUTANG 24k Gold Foil Anti Wrinkle Serum
Very good looking!

Today I bring you the opinion of another Chinese cosmetic, a few weeks ago I showed it to you through stories and after trying it since then I think I can give you an opinion about it.
I came from the LookhealthyStore, I already told you about some time with previous products.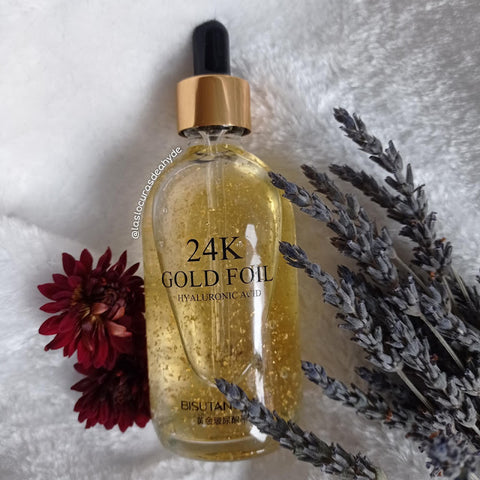 Gold Foil 24k Essence with Bisutang Hyaluronic Acid
Bitusang Gold Anti Wrinkle Serum contains natural ingredients that help keep skin soft, hydrated and silky, relieving dryness, roughness and dullness of the skin and has a lifting effect as well as being firming and anti-wrinkle.

Ingredients

Hyaluronic acid

Sodium hyaluronate

Filtered snail slime

24k gold

Seaweed extract
Packaging
The box is black and gold, simple and elegant. It has the name of the product and the brand in clear letters. On the sides we have the intrusions of use and ingredients in Chinese, a QR code and an expiration date, which says until 2023.
The bottle is made of glass with the letters in black. The dispenser is a dropper. The bottle is 100ml.

How to use?
It is an essence, therefore it is used before the serum or any other treatment, since one of its functions is to enhance the treatment and always with clean skin.
It can be used daily, day and night.

Texture and Smell
It is watery and fresh with a slight aroma, I don't know what it smells like, but it is a rich smell.
Opinion
I have been using another scent from another brand for a long time and although I like it a lot, I wanted to try other brands.
It absorbs super fast or rather my skin absorbs it fast, I really like the texture and that the smell is so mild.

Does it deliver what it promises?
For me, yes, at least when it comes to hydrating and illuminating the skin, it leaves me very hydrated and beautiful. The lifting effect is not that I notice it much, but I do see the skin somewhat firmer, I don't know if I explain myself.
In short, I love it, I'm very happy with it, it works great on my skin just like the other one, but this bottle brings more for the same price.
See you next day!
Read more
Comments
✕