MISS ROSE 42 Colors Velvet Matte Lipstick T1908
15% OFF BUY 3+ ITEMS, Use Coupon Code: Beauty
Specification:
Brand: MISS ROSE
Quantity: 2 pcs
Size: 7.3cm * 1.9cm.
Color: 42 styles optional.
Net Weight: 2 * 3.6g .
Weight: 2 * 23g.

Product description: waterproof, easy to wear, natural.
1. High pigment:
100% brand new and high quality. High concentration of color factor, highlight the three-dimensional lip. Good adhesion, can be maintained for a long time bright colors.
2. Silky texture:
Matte color without drying, caking or fading. Keep your lips soft and moisturized. Give your lips a long-lasting, delicious color, lipstick queen.
3. Color and effect:
The long lasting waterproof lipstick is smooth and not sticky, create matte velvet makeup. Colorful, 42 colors optional, give you the beauty you want. Not greasy, smear the moment you can experience the ideal fusion lips lines.
4. Specially treated color:
This velvet lipstick pigments are blended to deliver pure color with just the right balance of luminosity.
5. Exquisite design:
High-grade simplicity, perfectly blended with rose metal. Portable size, easy to carry.

How to use:
1. Draw an X shape on the edge of the upper lip with a lip pencil.
2. Draw lip line of upper lip with lip pencil.
3. Use a lip to draw the entire lip liner.
4. Carefully fill the entire lip.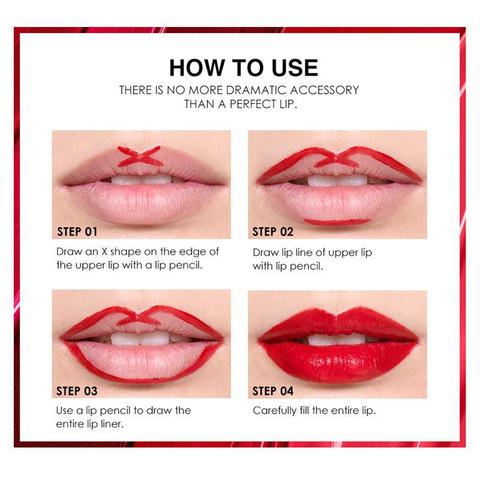 Warm note:
1. Don't use the moisturizing lipstick on broken skin.
2. Please do not put in direct sunlight or temperature is too high or too low.
3. Keep organic lipstick out of the reach of kids.
7 Tips To Choose The Right Lipstick For You
10 Makeup Tips That Make Your Makeup Infinitely Easier
Most Useful Makeup Colors To Match Your Skin Tone
12 Ways To Make You Younger Instantly With Makeup