O.TWO.O Foggy Matte Lip Gloss T2119
Specification:
Brand: O.TWO.O
Quantity: 1 Stick.
Color: 12 colors optional.
Net weight: 5g

Product description:
SUPER WATERPROOF: Waterproof, it can meet the need that does not separation a day, non-stick cup, the color will stay on your lips whole day.
MULTI-COLORS: Multi-colors Liquid Lipstick allow you apply different colors for all kinds of occasions, create variety of lips makeup.
LONG LASTING MATTE LIPSTICK: Contour and accentuate your lip shape with this lipstick that sets to a smooth matte finish for fuller looking lips; No crack, no budge, no fade,no dry and no transfer.
EASY TO WEAR: It is silky texture, make up your lips lightly, suitable for all seasons makeup, especially in office, dating, shopping, summer party with friends.This is a very convenient, very beautiful lip makeup, easy to wear.

How to Use
Dip a small amount of lip cream and gently push away with built-in plush brush to get a matte finish.
Do this a few times to get a richer color.
After applying, lightly blend with your fingers and get a silky matte effect.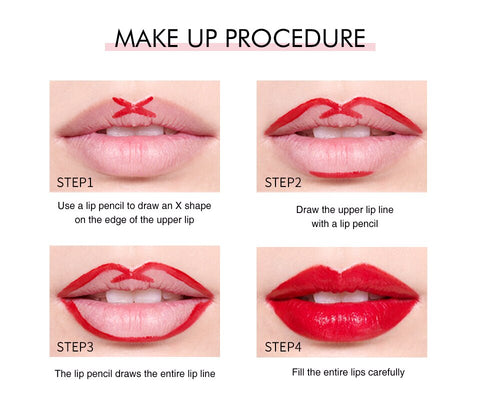 Caution:
1. For sensitive skin, it is recommended to conduct an allergy test on the back of the ear before using the product. Use the vegan lip gloss if no adverse effects occur.
2. Avoid lip plumper gloss contact with eyes.

Storage:
Keep natural lip gloss in a cool and dry place, out of direct sunlight. (Please keep out of reach of children.)
7 Tips To Choose The Right Lipstick For You
10 Makeup Tips That Make Your Makeup Infinitely Easier
Most Useful Makeup Colors To Match Your Skin Tone
12 Ways To Make You Younger Instantly With Makeup